Seminário Público
Feldenkrais & Voice
Esta página ainda não está traduzida em Português e, portanto, algumas partes do texto aparecem em Inglês. Pode escolher outro idioma no canto superior direito da página.
Feldenkrais & Voice – Unfolding Resonance
Movement, breath and voice are closely linked in the development of the human being. These three systems are intertwined and mutually dependent. Our voice gets its power and specific shape from the fact that we move and stand upright in the field of gravity. Our voice becomes full and resonant when our body is permeable to breathing movement and vibration. The more awareness we have of our inner body spaces and the space surrounding us, the more presence we develop; presence that also becomes audible acoustically.
In Christoph Habegger's online seminar series "Feldenkrais & Voice – Unfolding Resonance" we will work with our own voice, experiencing and developing it with the help of two methods: Feldenkrais and Atem-Tonus-Ton ("Breath-Tonus-Tone"), a method founded by the breathing therapist and body psychotherapist Maria Höller-Zangenfeind.
This workshop is open to voice professionals and non-professionals. It is designed anyone interested in experiencing their voice in connection with their entire body and wishing to grow personally through this work.
The main topics of the 4 day online series are as follows:
Day 1: Our relationship with the floor
The dynamic relationship to the ground takes place between being carried by the floor and being upright against the floor. Ideally, our diaphragm can move freely and our breathing movements can spread into the lowest parts of our torso. The support of the legs and the pelvis allows for a powerful voice, while the sensitive areas around the larynx remain relaxed.
Day 2: The chest
The thorax, together with the spine, ribs and sternum, offers a stable and flexible space. It contains the heart and lungs and connects to the diaphragm, our main breathing muscle, during the respiratory movement. If bones and tissue are able to absorb and conduct the resonance vibrations, warm, rich and deep sounds are produced. This can be heard and felt especially in the speaking voice.
Day 3: Hands, arms, shoulder girdle and torso
The connection of the hands and arms, shoulder girdle and trunk affects our breath and voice. The sensitive areas around the larynx, our "voice generator", should feel light and wide, and ideally our gestures support our personal expressions.
Day 4: The spaces in our head
The throat, mouth, nose and skull contain spaces that can be experienced and enlivened through movement, conscious perception, breath and vibration. They open and feel wider, freer and more permeable. The voice gains in brilliance and range, communication becomes more lively. Our diaphragm is stimulated and our entire body tension is balanced.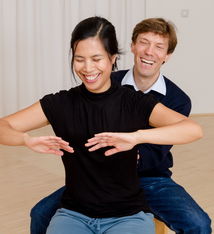 About the teacher
Christoph Habegger, born in Zurich, has lived in Vienna since 1991. After studying at the Vienna Conservatory, he worked as an actor and musical performer. He completed his Feldenkrais training with Carl Ginsburg in Lewes, England. This was followed by further training in Atem-Tonus-Ton and Embodied Life. He teaches in Vienna, is a trainer candidate for Feldenkrais training programs and a lecturer and director of Breath-Tonus-Tone supplementary training courses in Europe and Japan.
Please note:
For your participation in this online seminar please have a mat and a stool or chair ready.
Este webinar será transmitido ao vivo através do software de conferência online "Zoom", e será constituído por lições de Consciência pelo Movimento (as chamadas "ATMs", do inglês Awareness through Movement). Por favor, certifique-se de que tem um tapete, esteira ou manta disponível para deitar quando a aula começar. Um apoio plano para cabeça (por exemplo uma toalha dobrada ou almofada pequena) também é aconselhável, apenas certifique-se de que não é demasiado alto ou muito mole.

É possível participar no webinar usando um computador, tablet ou smartphone e, a sua camera e microfone não precisam estar ligados para participar.

Por favor inscreva-se no webinar clicando no botão "Registe-se já".

Após o pagamento da taxa de inscrição, receberá um e-mail de confirmação com o seu link pessoal para participar do webinar. Por favor, guarde este link e não o partilhe com outras pessoas.

Se estiver a utilizar o Zoom pela primeira vez, é aconselhável que instale o software ou a aplicativo Zoom para um bom funcionamento da sessão. Por favor, reserve de 10 a 15 minutos para a instalação do app Zoom antes do webinar.
---
Créditos das fotos
Header photo – © Ahmad Odeh
Photo of Christoph with client – © Xenia Bluhm